Jean Mastaki Bafa



R.D. Congo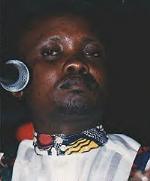 AMANI
peace
Our folly will destroy our world. Everywhere conflicts and wars arise because of our lack of love. It is love that breeds peace, fraternity and hope. Hope leads to progress and inner peace.

Let us safeguard peace. It is not even difficult to achieve it. If we just respect other opinions and the differences between us we will possess the key to a durable peace which will unite us all.

This world created by God belongs to all of us. It is high time to re-build it in peace. Love everywhere is definite peace and the answer to all problems the human race is facing.

[I was] born at Bukavu on the shores of the Great Lakes, a region shattered by wars and inter-ethnic conflicts of all kinds and forms.

As a shocked eye-witness I observed what the world turns to in the context of war. Living amidst the turmoil of continuing conflicts and wars, I became an artist at a very early age, and themes related to peace have become the basis and support of all my inspirations..

Today I live in Kinshasa, the capital, a city that is home to 19,000 victims of war, widows, orphans, and people suffering from war injuries.

My song AMANI is a credo that wants to defend the 'case of peace'...
Jean Mastaki Bafa

FRANCAIS /TOP




email
1965 - birth in Bukavu

- nursery school, Primary and Secondary School between Bukavu et Goma.

1980 - music course at 'Centre Culturel Francais', Bukavu.

1982 - formation of his first music group The Joy composed of young students from the town, follow-up musical education with Reverend Father ALDO Rottini, a Xaverian of Italian origin.

1986 - moves to Kinshasa and develops his musical skill in the music groups BONGO FOLK (later OKWESS), KALAMASOUL The APPOLONIANS (Greco-Congolese group), ORIENTAL (Lebanese), and as a musician of the Variety at hotels such as 'Hotel Intercontinental', 'Hotel Memling' etc...

1998 - founds his own group and breaks away from the music of 'interpretation', starting a very 'adventure' of research on the folklore of the region of the 'Grand Lacs' (Great Lakes).

1998 - Participant of the contest "A song of peace"

2000 - Principal defender of the so-calledSolfège couleur, a new approach to musical notation initiated by the MUKENDI.

Jean is a member of the group AMIS DE DON BEPPE