Gian Marco
Gualandi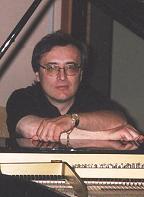 1300 ANNI
"A NATIVITATE DOMINI"
1300 years - A Nativitate Domini

"noblemen and peasants,
Guelphs and Gibellines,
[and] neither census
nor age matter...
Inspired by the First Jubilee - that of 1300 - the song celebrates the sentiments of peace and charity.

Independently of, or beyond, census (nobili e villani) and political stances (guelfi e ghibellini) there should be a desire to 'juxtapose' different views etc. in a peaceful way in order to resolve contrasts (conflicts).

Not only against the background of the political situation in Italy the message of the song seems to be a most topical one... With respect to the scenario in the Middle East, i.e. the drammatic events resulting from the ferocious hatred between Israelis and Palestinians, the text points to the possibility that, in spite of being the most bitter of enemies, as once were the people of Venice and Genoa, even Israelis and Palestinians may seek a 'peaceful encounter' or at least find a moment at which they will manage to put aside their rancour.

This could [under other circumstances] happen on the basis of a common faith, but also, on a non-religious level in the name of a 'universal idea of humanity' , guided by the conscience that we are all but human beings, all belonging to the same species, all 'condemned', willingly or not, to live together on this earth."
Gian Marco Gualandi
Gian Marco Gualandi received his Jazz diploma with top grades at the "Conservatorio di Bologna" (Ballotta), where he also studied classical composition (Furgeri).

In the functions of arranger, composer, and/or pianist he took part in the realisation of numerous TV programmes (RAI), arranging and orchestrating music for renowned artists such as JULIO IGLESIAS, JOSÉ FELICIANO, MILVA, LARA SAINT PAUL, etc.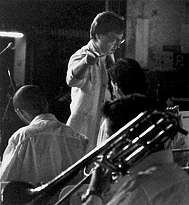 He has won a number of prizes in international contests in the fields of big band jazz (BARGA JAZZ, SCRIVERE IN JAZZ, etc.), pop, (SAN REMO GIOVANI, etc.), and music for children (ZECCHINO D'ORO).


In all his various functions, he has worked for ARISTON, CANALE 5 MUSIC, ed. ANTONIANO, JUNGLA RECORDS, NOTHING LIKE MUSIC, SIEBENPUNKT VERLAG, REFRAS, etc. He has been a member of many groups and went on tour with artists such as Lara Saint Paul, Maurizio Micheli, etc. There are further activities in the fields of big band music and classical music. He collaborates with public cultural institutions and teaches harmony, arranging, and orchestration. - see more details in Italian version