INTERNATIONAL AND WORLD PRIZES ┴═D ¤ďă┼R HONORS
1. "9 CYPRUS VARIATIONS FOR STRING QUINTET" -1st world prize,
D.P.R.Korea 1992 - among 136 countries
2. "THE SOWING DANCE" -1st international prize, D.P.R.Korea 1993
3. "THE HARVEST DANCE" - 1st international prize, France 1994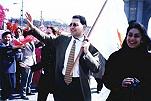 4. "CYPRUS LAMENTATION" - 1st international prize
D.P.R.Korea 1995
5. "WOODWIND QUINTET" - 1st international prize
D.P.R.Korea 1997
6. "HIGHEST STATE DIPLOMA FOR CULTURE SERVICES"
D.P.R.Korea 1997
7. "GOLD AWARD" For the Symphonic Poem "PAECTU" with the National Symphony Orchestra and choir of D.P.R.Korea.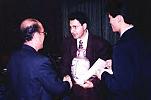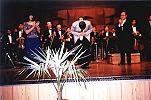 left:
exchange of presents for
the Korean President

PAECTU award
8. Selection of WAR YOUR ARE THE OBSTRUCTION OF THE LIGHT for
A Song For Peace ITALY, ROME 1998-2002

9. SELECTION of his opus "MOTHER LAND CANNOT BE DIVIDED - SONGS FOR THE FRIENDSHIP BETWEEN GREEKS AND TURKS" by The American Embassy - Cyprus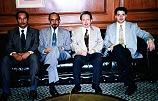 2000
10. GOLD METAL - the highest honor of the Sultanate of Ternate, Indonesia, awarded by H.E.The Prince of Ternate, Mr B. Harianto A.Widjaja, for Adamos' music services to humanity - Indonesia 2001 ľ see picture right

11. PARCHMENT from Dherynia Municipality Cyprus, for 15 years of Discography.

12. GOLD AWARD Korea, April 2002

13. APPOINTED: Ambassador of goodwill of occupied city of Famagusta Cyprus.
DISCOGRAPHY.
1. "KATSANTONIS POETRY FAMILY" 1986
2. "CYPRUS ODYSSEY" 1988
3. "VASILITZIA-MY BEAUTY" 1990
4. "9 CYPRUS VARIATIONS FOR STRING QUINTET" ľ
1st International prize D.P.R.Korea 1992 - recorded in Korea, 1994
5. "LOVE IS THE WINNER" Soundtrack from theatre, 1995
6. "EAST OF DHERYNIA-SONGS FROM MIDDLE AGES", 1996
7. "POPULAR AND LIGHT" 1998
8. "VASILITZIA-THE QUEEN OF FLOWERS"1998
9. "1rst CYPRUS ANTHOLOGY-KATSANTONIS POETRY FAMILY" 2000
10."MOTHER LAND CANNOT BE DIVIDED" - Songs for friendship between Greeks and Turks
(June 2002) sponsored by US embassy and >>> ALICO AIG LIFE
CDs COMING SOON
1. "THINK WELL-SONGS AGAINST DRUGS"
2. "ADAMOS KATSANTONIS-CLASSIC MOMENTS"
3. "CYPRUS SCERTCO"