Jon Lukas


GB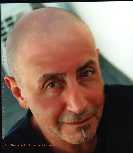 by permission of Jon Lukas
DEPEND ON ME
"In a World
Where the Sky is dissolving
In a Land
Where a man must watch his back
There is hope
If we all stand together..."
Enmity and mistrust become painful close experiences if friends and neighbours turn against you, while others around are unable or even unwilling to stand in for you.

In 1993 and the years after, people in the former Yugoslavia were exposed to this kind of trauma, in particular against the background of systematic 'ethnic cleansing'.

At the same time, from a safe and hypocritical 'distance', and for too long, people in Europe and the rest of the world restricted themselves to utter concern at horrid TV images etc. They also seemed inclined to consume entertainment à la EUROVISION SONG CONTEST rather than to open their minds and hearts in order to try and really understand 'peace lyrics'...

What is badly needed amidst such horror is not words and promises from far away but a real friend, a 'brother', a 'shoulder to cry on', someone whose word can be taken for granted when he says

Depend on me..


after Jon Lukas

email

 BRITISH ACADEMY
biography (cf. below)
In 1972, Jon Lukas' Can't afford to Lose was the number 1 hit in Malta and the Middle East (Lebanon etc.) for three consecutive months, surpassing the Beatles.

His song Love we share finished second in Malta's Euro heats and was still played years later by Maltese radio stations, drawing a lot of public attention.

In the mid-90s, he committed himself to the issue of AIDS awareness, touring Maltese schools and universities.

With his band Woodenman, Jon signed a non-exclusive contract with peoplesound.com, with their track My Time (produced by David A Nash, guitars by Ashley Lukas) topping Peoplesound's charts for 6 weeks.

 PEOPLESOUND.COM
songs by Jon

 ALLMALTA.COM
new: Miles Apart