Vincent Pace

Australia

Vincent Pace
REIGN DOWN PEACE
Growing up with 6 brothers and 5 sisters and living in a small house I learnt from a very early age the meaning of 'sharing' in every sense of the word.

My parents stressed 'equality' and 'unity' as the key to happiness and peace, this was paramount in our household, it was only when selfishness was present that tears flowed or we experienced conflict.

The words of my parents rooted deeply in my heart!... I believe the seed of peace must first be planted and cultivated from within.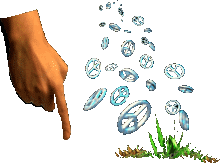 In 1999 I came across the SMT announcement for 'The Song for Peace in the World Contest' I seized this opportunity to express my feelings about this hot global issue.
Vincent Pace

Life would be unimaginable for Vince without music. He is driven and passionate about his art and has never taken his gift for granted. Over the years he has managed to reinvent himself many times while adhering to his code of complete dedication to whatever project he chooses to undertake. To him music is the embodiment of soul ,spirit, mind and heart…..

He draws inspiration from every situation in life..... life is a miracle. In music as in painting it is the subtleties not complexity that make the difference... There is beauty in simplicity, a sense of freedom.

email
Vincent Pace is an Australian composer, songwriter and multi-instrumentalist with a special interest in composing music for film/TV and theatre. With training in classical piano and theory combined with electronica/pop explorations in the touring live music scene, Vincent is attracted to sounds of classical textures merging seamlessly with sounds and ambiance of the modern world to facilitate a story and mood. His inquisitive nature to understand and learn various genres of music and a thirst for new technology also opened doors to studio session recording and producing, utilizing both acoustic and synthetic sounds.

Vincent's knowledge of score arrangement and production skills naturally led him to undertake Indie projects and collaborations and at present is working with Malta based lyricist Billy J. McBee The new partnership is aimed primarily at writing songs for Malta Eurosong Festival entry. He is also a passionate music educator, developing and applying workshops in performance and composition. He is also a long time standing MTA member..(Music Teacher's Association of Australia)

Achievements include being one of the top ten shortlisted composers in the 'APRA Tropscore' 2013 Tropfest Short film Festival' Finalist in 'A Song For Peace In The World'-2000. In 2004 Billboard International Songwriting Contest awarded him an 'Honorable Mention' for songwriting. In 2012 a semi-finalist with his band 'Hounds Of Baker Street' in the U.K. Songwriting Contest - Instrumental category

Since the end of 2010,Vincent with long time friend and colleague Alexander J. Keller have been working under the banner of 'Graft Productions'... In 2012, 'Stormfront' a track from 'Graft' their first album release won the instrumental category in the 'SongDoor' International Songwriting competition Nashville USA.

More History.....

Vincent has worn many hats regarding his career in the music industry. Since he first started playing keys and tambourine in his older brother's Latin/pop band at the very tender age of fourteen....even by then he was slogging it out on the road .He was to later join his celebrated piano teacher on infrequent performance expeditions on bass, playing at sophisticated nightclubs in the affluent suburbs of Double Bay and Potts Point Sydney.

Vincent worked as a full time music professional for many years in the 'pressure cooker environment' of the high-end club/cabaret circuit and university gigs, performing mainstream pop/rock music, introducing fresh new arrangements and original music to the band. He was always on the lookout for more challenging collaborations to lift his potential in musicianship. One day he answered an add in the newspaper. after his eight year stint with his former band had come to an end.... met and teamed up with Christian soul singer Byrt Mallanyk..(now owner of Ingenius SME Marketing).. he was a new arrival from Singapore whom had worked as a full time entertainer at the Hilton and Raffles hotels.. Occasionally they would cruise into Wireless Set Studio in St. Andrews Square Sydney around two in the morning after a gig laying down demos for Byrt's up and coming album 'Total Breathing'. The duo lasted about fives years and were on top of the 'food chain' list as far as artists booked for classy restaurants in Sydney. Celebrities often frequented these restaurants for dinner and late night drinks

In 1998 he founded Christian Rock Band Portico77. An all original band with 'spiritual attitude' not mentioning a purpose and a mission. The band recorded three albums and worked very close with youth group organizations particularly in and around Sydney and from parts of Australia. In 2005 they performed concerts for World Youth Day in Cologne Germany. Over one million people primarily youth and young adults packed the city precincts of Cologne and the surrounding suburbs. This was also Vincent's second visit to Cologne. The group had first started from a Parish level, rising to a National platform, then on to an International profile. Vincent also performed at World Youth Day 2008 in Sydney with Melbourne based singer Tim Cannon.

An opportunity was presented to Vincent in 2000 from 'Wiggles Live Touring' to engage and increase his knowledge in touring, stage management and production on a much bigger scale, but the job also meant a significant amount of travel and with a young growing family it wasn't the easiest decision to make. Vincent worked with and along side the 'elite' of sound engineers, lighting designers and tour production managers. and costume designer such as the likes of Maria Petrozzi of the ABC network (Gruen Transfer, Kitchen Cabinet, Enough Rope) Rod Matheson audio engineer (Kylie Minogue World Tour, Crowded House, Paul Kelly The Wiggles,) Ben Shapiro audio engineer (Gotye, Finn Brothers,) Alex Saad lighting engineer (Bjorn Again, Youth Alive, The Wiggles) From the small, humble country town hall in regional areas of Australia to the magnificent, majestic embellished old thearters of the UK, to grey cold concrete vast entertainment centres and arenas, Vincent worked well with big crews and was very well liked because of his light hearted approach and good humour. which helped keep morale high on a grueling tour schedule.. Always willing to go the extra mile......with a smile..

updated 2014