Santiago Retti



Chile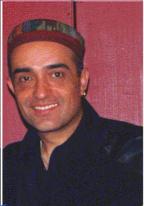 UN MILENIO NUEVO
UN PLANETA ENTERO
a new millenium - a whole planet
"The song "A New milennium, a complete planet", was written shortly before the close of the 20th century, a moment associated with big expectations, hope and changes, changes that must be brought about by humanity itself - if we really want to have "a whole planet" for our children and their children.

In the dark corners of the cities of our Latin-American countries, children who depend on other people's charity are a common sight; they beg for alms, perform as street clowns, wash the windscreens of cars, sell flowers etc. because of their families' economic and social plight, thus providing a little money for a living.

"Diego" is one of these children who, when crying at the top of his voice to sell his flowers, at the same time cries for help. His activities are accompanied by an immense sadness that he has to bear, and that forces upon him a precocious wisdom of life.

Our world is becoming more and more indifferent towards these and other problems which concern us all. "A new Millenium - a complete planet" simply is a song of hope. It wants to make us aware of the fact that we do not want to perceive, and act against, this misery - for all our selfishness and ambition. I want to say "Enough!" to this darkness , which, from day to day, is taking us closer to self-destruction.

War is not present on the battlefield only but on every street in the world every day.
Santiago Retti


email



GANADOR UNISONG
Santiago Retti, composer, arranger, and singer, studied pedagogy and musical education at the University of Chile and took his music diploma at the Catholic University of Chile. At the same time he attended orchestration courses held by recognised "maestros". He is a member of the international festival organisation F.I.D.O.F, , which patronises and organises international festivals and works with artists from all over the world. He is also a member of Songlink Internacional, an editorial body, which presents a platform to producers and composers all over the world, and of Chile's music rights society, SCD.

Artistically, his roots lie in a group called "Sábados Giantes". He has written music for tv serials, e.g. for Chile's Canal 13 ("La Intrusa", with Mágica en la Sombra", a song he also performed himself, and "Matilde Dedos Verdes")

He is permanently ínvolved in activities as a producer, composer and arranger for other national (Gloria Simonetti, Claudia Muñoz) and international artists (Riccardo Fogli, Alessandro Canino, Stephan Guevara, STS).

At present, he is preparing for a new production, which includes the recording of a duet performed with the famous Italian artists Riccardo Fogli and Alessandro Canino. This project will be presented to music editors both in Chile and Italy.