Juergen
Matthias
Schroeder



Germany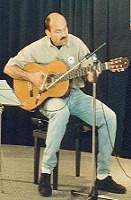 ICH TRÄUME VOM FRIEDEN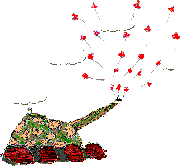 Robins Friedenspanzer
In den Jahren 1997 – 1998 wurde ich zu einigen UNICEF Veranstaltungen in meiner Umgebung eingeladen. So trug ich z.B. in Münster (Westfalen) einen Song vor, der von Kindern handelt, die im Licht der modernen Welt aufwachsen, im Gegensatz zu den Kindern, die im Schatten der Zivilisation leben.

Bei dieser Gelegenheit überreichte man mir ein Buch mit Bildern von Kindern aus dem ehemaligen Jugoslawien.

An einem Tag im Frühjahr 1999, als ich mir diese Bilder ein weiteres Mal anschaute, schossen mir Ideen und Bilder darüber durch den Kopf, wie diese Kinder ihren eindringlichen Wunsch nach Frieden aussprechen würden, und wie wir an diesen Gefühlen teilnehmen könnten.

Wie durch eine unerklärliche Energie angetrieben, schrieb ich das Lied in weniger als einer Stunde. Die Verse am Ende greifen den Gedanken auf, dass, wenn es dort für diese Kinder Frieden gäbe, auch Frieden in unseren Gedanken und Gärten sein würde...

Wenn ich das Lied singe, das den Titel eines Unicef-Buches trägt, läuft mir immer noch ein Schauer den Rücken herunter.

Mein Dank gilt Marco Böhm, (13 in 1999),Annika Briewig (14), Norbert Tennagels (43), alle aus Dülmen bei Münster, und Tamara Falk (11), Dorsten, für ihre Mitarbeit an der DEMO CD; und meinem lieben Robin (8) für die Illustration.
Juergen Matthias Schroeder

ITALIANO

 ENGLISH /TOP




email



HOMEPAGE
Juergen Matthias Schroeder wurde in Heinsberg bei Aachen geboren. Er entwickelte früh Interesse an internationaler Kultur und Freundschaft über die Grenzen hinaus.

Der musikalische Autodidakt hat Balladen usw. komponiert, die eine große Vielfalt an Themengebieten abdecken. Er hat ein spezielles Interesse an sozialen Fragen, bringt aber auch in Darbietungen eine Neigung zur Satire und "leichterer Unterhaltung" zur Geltung.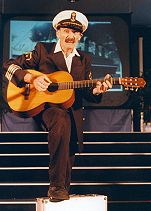 SATIRE: SCHIFF AHOI !
Nicht nur auf regionaler Ebene trat er bei zahlreichen Veranstaltungen musikalischer, kultureller und gemeinnütziger Art auf. Bei verschiedenen Bildungsträgern präsentierte er literarische und musikalische Programme, z.B. zu William Blakes sozialkritischen Gedichten:

POEMS SET TO MUSIC
Lieder für bzw. über Kinder und die Themen Frieden und Verständigung sind zum Beispiel:

ATAKI MI BOKA and


LICHT UND SCHATTEN


2000 fungierte er mit viel Freude als Komparse in der italienischen Oper "L`incoronazione di Poppea von Monteverdi", die in Recklinghausen aufgeführt wurde, an der Seite von Stars der Italienischen Oper.

deutsch von Peter Oblisz & Marco Nilius
Diskografie

*** Romantic Poems Set To Music
Gedichte von William Blake, W. Wordsworth, Lord Byron als Balladen
*** Kubla Khan Or a Vision in a Dream - Traumgedanken vom Paradies
S.T. COLERIDGEs Gedicht als Symphonie
*** Momentaufnahmen - Instrumentalstücke
*** 7 Sachen - Kinderlieder
*** Schiff Ahoi, Willkommen zum Untergang - Balladen & satirische Lieder
mit Andrea Witte
Berufliche Aktivitäten

umfassen wissenschaftliche Tätigkeiten an der RWTH Aachen, Ausbildung und Unterricht an Gymnasien, Veröffentlichungen und Vorträge. Im Rahmen gymnasialer Lehrerfortbildung stellte er z. B. "English poetry set to music" vor (Regierungsbezirk Münster). Er arbeitet an einem Berufskolleg. Ein Erfolg seiner integrativen Theaterarbeit war 1991 der Gewinn eines Preises des Kultusministers NW für die Gestaltung und Regie eines Theaterstücks zum Thema "Titanic".