Latest News

Attualità

Aktuelles
>>>> ARCHIVE UNTIL OCTOBER 2002
WOMEX - AT THE
WORLD MUSIC EXPOSITION
IN ESSEN / GERMANY


click on photos for more about the background of our representation at the WORLD MUSIC EXPO, ESSEN, GERMANY, 24-27 OCTOBER.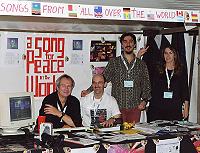 At WOMEX, Dirk & Gertrud Schmalenbach, Juergen M Schroeder and Dario Schepisi promoted SMT's A Song For Peace initiative as well as the group's own DEMO Cd and their main sponsor's action "FOR TOLERANCE" (industrial union IGBCE, Germany). There were contacts with more than 100 companies, from radio stations and music magazines to record labels. About 70 'LOVE' DEMO Cds and a small number of SMT DEMOS were distributed to people interested in the whole project and/or in single artists. The most promising contacts referred to the African artists and René Simon's new salsa project. The rest of the DEMO Cds are on their way to the authors to be used for promotion in 18 countries of the world.


AUTHORS MEET IN ITALY:
DARIO SCHEPISI
& JM SCHROEDER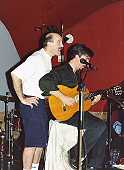 &nbsp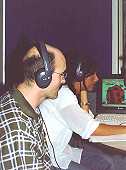 2 authors live on stage, promo at Altra radio

Shortly before WOMEX, JM Schroeder had the pleasure to enjoy Italian hospitality, meeting Dario Schepisi in Bari. A programme of interviews and presentations included a visit to Bari's ALTRA RADIO, where they promoted the contest & the 'LOVE CD DEMO', and performances at THE BOHEMIEN as well as at THE SCUOLA MEDIA 'VERGA'


NEWS ON THIS PAGE

JM Schroeder and D Schepisi in Bari (bottom left)
Vince Pace: UNITY AWARD, visit to Germany
4 authors at WOMEX (Essen, Germany)

VINCE'S PORTICO WIN UNITY AWARD
AND MEETS GERMAN AUTHORS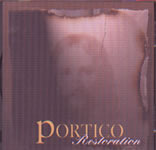 UNITY AWARD 29: international album of the year

>>>> more about the UNITY AWARD


At one of the greatest events in the world of Christian music, held at the Hartke Theater on the Catholic University campus in Washington, D.C. on Saturday, October 26, 2002, Vincent Pace received the >>>> UNITY AWARD for the best international album of the year. On his way back to AUSTRALIA he promoted his album and our initiative in Malta in a TV interview, before visiting the German authors for another 'FORUM CONFERENCE'.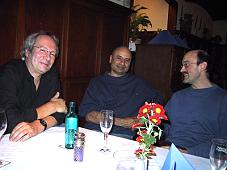 conference with Dirk, Gertrud & Juergen near Frankfurt
photo: Gertrud Schmalenbach
>>>> click here: NEWS UNTIL OCTOBER 2002

V Pace on tour with the Wiggles (photo)
German authors' Easter meeting (photo)
JM Bafa at Nigerian ministery and media
A Katsantonis: new Cd / Gold Award (N Korea)
Trai Quang Hai honoured by French President
Dario Schepisi: new website