NEWS BELOW

> Edenmusic 3rd Winner Pop Trophy
> Jean Mastaki Bafa working on new Album
> A. Katsantonis mentioned by CNN.com

WOMEX success:
PUMA meets IGUANA



&nbsp

> click on logos above for more information


RITMO Y COLOR, produced by the Berlin record label CUBA CHEVERE,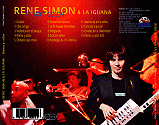 which became interested in IGUANA's music during WOMEX 2002, will be distributed in 14 countries of the world: Germany, Switzerland, England, Italy, Cuba, USA, Canada, Japan, Denmark, France, Greece, Spain, Holland, and Korea.
EDENMUSIC 3RD WINNER
GERMAN POP TROPHY


>>>> Dirk and Gertrud Schmalenbach won 3rd prize in the "Deutsche Schlager- und Inter-nationale Pop-Trophäe 2002-2003".
>>>> GERMAN POP TROPHY
JEAN MASTAKI BAFA
RECORDING ALBUM


>>>> As Jean Mastaki Bafa (RD Congo) reports, several companies have got in touch with him after WOMEX, but, since he has a contract with a German record company, with whom he is busy recording an album, he has had to decline further offers. We may soon receive some photos giving us some impressions of his work with the most interesting set of instruments he is using in this project performed in equatorial Africa.
ADAMOS KATSANTONIS
MENTIONED BY CNN.COM


>>>> Adamos Katsantonis (Cyprus) has been given an honourable mentioning by the famous American CNN.com network for his participation in the Cyprus presidential elections. >>>> CNN.com
___________________